> Vito Soldano Archeological Site Canicattì
---
Vito Soldano Archeological Site
Contrada Vito Soldano - 92024 Canicattì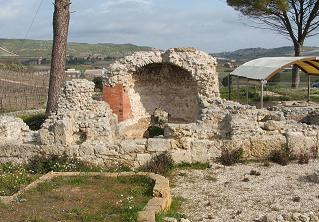 On the trail

of

past

ancient civilizations
Six kilometers

from

Canicattì

between the

SS

122

and

the

unpaved road

between

Canicattì

and

Castrofilippo,

an important archaeological site has developed

:

Vito

Sultan

,

one of the few

Roman

-

Byzantine centers

where

remains of ancient

cities

have

surfaced

and

you can

find relics

and

coins

from different

historical periods

.
The first investigations of the site, carried out in 1956 by the Agrigento Surveyors together with local archaeologist Maria Rosa La Lomia, unearthed the remains of the apse (called Ecclesiastra), probably re-used as a church in the Christian era. The subsequent excavations brought to light the incredible remains of settlements from three differenti settlement eras: a settlement in which it is possible to distinguish at least three building phases, documenting a continuity of life from the first century BC to the eighth century AD, in particular, the remains of a private bathroom (Phase I), the main thermal building flanked by two perpendicular streets (phase II) and a workshop with a Christian necropolis (phase III).

We do not know the original name of the ancient settlement, but we know, however, that at the time of the Arab conquest, the ancient city was renamed, as it seems, with the name "Vito Soldano." According to some scholars, the name is linked to the name of an important Muslim dignitary, while according to others it derives from the name "Beyt Sultan", meaning "House of the Sultan."
Name:
Vito Soldano Archeological Site