> The Luigi Pirandello House Museum Agrigento
---
The Luigi Pirandello House Museum
Contrada Caos - 92100 Agrigento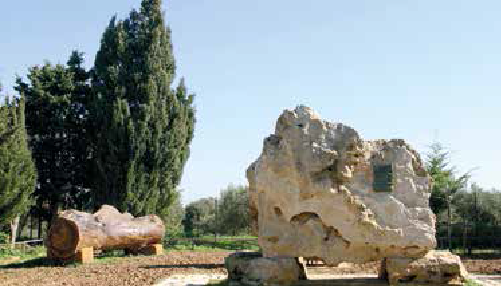 Unmissable combination of art, history and nature.
"Facing the edge of a blue, clay plateau on the African sea ...
At about four kilometers from the historic center of Arigento and two from the Valley of the Temples, the resort area Chaos, was once the house that was the birthplace of Luigi Pirandello.

The "solitary house" and the former "lonely pine" are the mythical places of imagination where Pirandello spent his childhood and adolescence in the country.
The museum, located on the first floor of the house, hosts temporary exhibitions dedicated to the Master and, permanently, a large collection of memorabilia, photographs, letters, reviews, awards, first edition books with handwritten dedications, paintings dedicated and posters of Pirandello's most famous works represented worldwide.

Those who visit the Luigi Pirandello House Museum, can't pass up a walk along the path to the right of the house, where the famous pine tree sits, where the poet fell like a firefly ........
The pine, in November 1997, was irreparably damaged by a tornado that tore away its head, and it now lays destroyed where it once soared. At its feet are the ashes of the writer, saved in an urn.
You can't refuse a stroll on the path to the panoramic cliff overlooking one of the most evocative views of the area that offers a spectacular view ….facing the edge of a blue, clay plateau on the African sea ...
Here, art is intertwined with nature in a constant union and gives this site a special charm, where its colors, its scents, the sea, enchant and arouse grand emotions.
Name:
The Luigi Pirandello House Museum
Full entrance cost:
Regular Tickets: 4,00 €
Reduced entrance:
reduced: 2,00 €
Special entrance conditions:
Visit the tomb of the writer from 9:00 a.m until one hour before sunset Guided Tours: tel 360397930 Contacts: Tel.0922 511826
Opening time:
from 9:00 a.m. to 7:00 p.m.
Contrada Caos Villaseta - Agrigento SS 115