> Archeological site of Villa Romana Durrueli Realmonte
---
Archeological site of Villa Romana Durrueli
Contrada Durrueli - Punta Piccola - 92010 Realmonte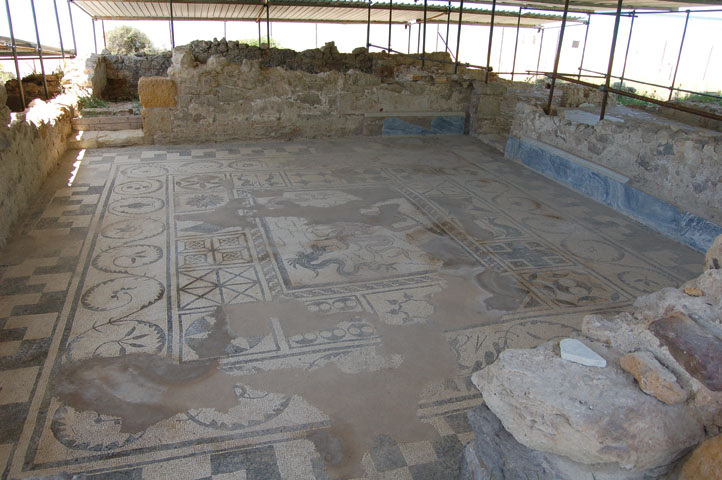 A few kilometers from the town of Realmonte, one meets a divided road indicating the archaeological site of the Roman Villa of "Durrueli" (first century AD.).

The discovery of the villa in 1907 occurred during excavation work for the construction of a railway, passing through Realmonte, which crossed through the town of Porto Empedocle connecting Agrigento to Siculiana. It brought to light the original structure of the ancient Roman house consisting of two rooms in "opus sectile" (decorated with marble sheaths) and three rooms in "opus tessellatum" (decorated with mosaic floors).

Attached to the first part of the villa is the second largest wing, where there are the remains of the thermal spa area, typically present in Roman Patrician villas and probably built in a later period, around the second century. B.C.

Completing the structure of this antique home are peristyle columns, which enclose a garden in which was placed the impluvium, a large tank for collecting rainwater. Outside you can see the wall of the enclosure and the terracing that allowed access to the sea, not far from the villa itself.
Name:
Archeological site of Villa Romana Durrueli
By car From Agrigento: 14 Km SS 115 By bus From Agrigento: LUMIA SALVATORE Line, Tel 0922 20414 / S.A.L. - SOCIETA' AUTOLINEE LICATA S.R.L.Tel.0922 401360 Free Entrance For Campers: Service zone CAMPER STOP: Punta Piccola Park - SCALA DEI TURCHI – Zone: Punta Piccola , S.P. 68 – Cell. 3475298525