> Good traditional cuisine
---
Good traditional cuisine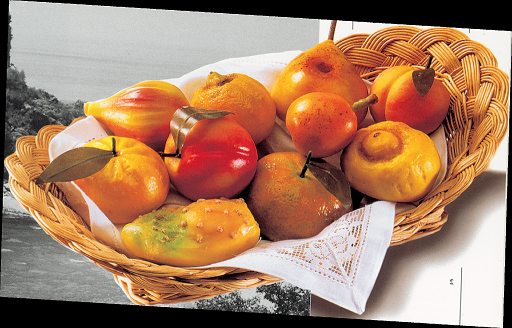 It is what happens in the typical cuisine of Palma de Lichtenberg, Li Montechiaro, Licata, Ravanusa, Campobello, Castrofilippo, Naro, Camastra, Racalmuto and Grotte.


Here, the traditional cuisine and fine wines create an attraction to these artistic places and help make them interesting for tourists.

The main character of gastronomy in this area are the fish and the excellent local fish restaurateurs that indulge in cooking in many ways, with a respect for tradition and a special focus on innovation and experimentation.

Local meat, cheese and vegetables, respectful of the production cycle, are the base of tasty, highly appreciated meals that meet high standard, refined tastes.

The pastries, typically traditional Sicilian and handmade, are inviting, varied, beautiful to look at and great in taste.

The homemade pastries of Palma di Montechiaro deserve a separate discussion. The monastery of the Benedettine nuns are dedicated to the production of almond sweets and marzipan with an ancient recipe from centuries past.

Pay special attention to local wines that, for their quality and variety, compete with labels that best represent the gamma of Sicilian wine.

The fishing port and the fish market of Licata are very active. The local gastronomy is based on simple tradition; cooking blue fish, especially sardines.
The cities of Castrofilippo, Naro and Camastra have varied cuisine that comes from far away, closely linked to different cultures of the many peoples who have dominated the Sicilians that have won over the palate. Tastes, smells and colors remind us of the history of these places and delight the senses of visitors, tourists, regulars.

They are comunities that commonly arise in predominantly hilly land not far from the sea.

Interesting, for anyone passionate or with good taste, it certainly has a generous natural gift of favorable weather conditions and a variety of environments, which are a prerequisite for the rich agriculture's prolific presence of numerous crops: wheat, fodder legumes, olives, almonds, mosto and common peaches.
The backbone of the economy of the cities of Castrofilippo, Naro and Camastra is represented by the growth of table grapes. Farmers, after years of experience, have learned to produce better, targeting more on quality than quantity. Thanks to techniques aimed toward the grape cluster, the use of organic and biodynamic methods, advanced covering techniques, they assure, in addition to high production and good quality products, the environment and consumer health. Another fruit sector important to the Castrofilippo economy is the production of peaches. Second to the fruit sector, Castrofilippo has had and continues to have great importance in the horticultural sector. It is known in the surrounding areas and beyond, for the production of garlic and onions. For onions, every August has a dedicated festival, The Festival of the onion, during which the largest onion is awarded. Castrofilippo onions are red, white and pale yellow, in clay soils, with biological methods. Once mature, they enrich the taste of the popular local cuisine.
Here is one of the most common dishes in Castrofilippo, lu pitaggiu:

The recipe - Lu pitaggiu

Ingredients: - 1 kg of fresh peas - 500 gr peeled broad beans - at least 4 artichoke hearts - 1 onion - plenty of extra virgin olive oil - salt and pepper

In a large enough pan add the peas, peeled broad beans, chopped artichoke hearts and chopped onion. Salt and pepper to taste.

Add a good amount of extra virgin olive oil and cook on a low flame with the addition of a little water; However, if it is still not very tender, I suggest adding half a glass of water. Pay attention not to burn it, mix regularly. Cooking time is about one hour.

"U pitaggiu" is a very versatile dish: it lends itself as a main dish and excellently both as a side dish to roasted pork sausages, or as a sauce for rice, or better yet, for pasta (preferably short). Another use is in a delicious vegetable omelet: in this case, just add the well beaten eggs, grated Parmesan cheese and a handful of breadcrumbs
Name:
Good traditional cuisine