> Nature Reserve - Torre Salsa Siculiana
---
Nature Reserve - Torre Salsa
Riserva naturale Torre Salsa - 92010 Siculiana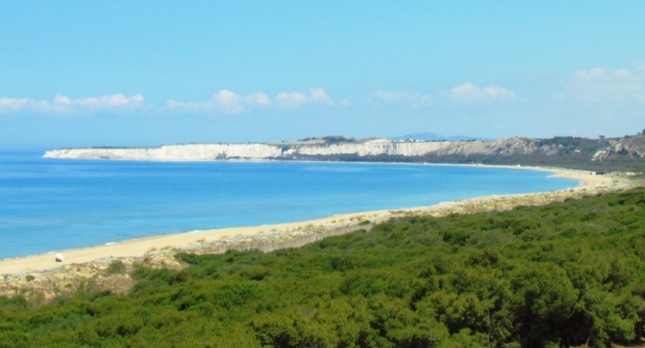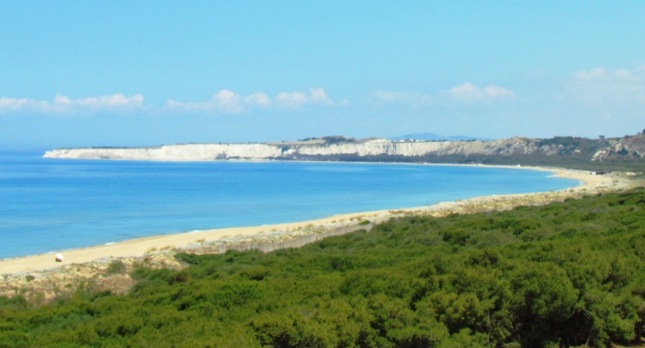 A short distance away from the archaeological site of Eraclea Minoa, extends the "Natural Reserve of Torre Salsa". Established in 1996, the reserve, including the territory between Siculiana Marina and Eraclea Minoa, is characterized by 762.65 hectares of high coast, where chalky cliffs alternate with calcareous marl and stretches of low coast where the sand is a master at constructing several coastal dunes; a paradise, crossed by branched streams and deep as the Cannicella or the Eremita that flow into the sea. The suggestive landscape joins a prodigious natural richness: terraces surrounded, from the high side, by cliffs and the sea, and on the other by the mountainous scenery of Monte Stella, Monte Cupolone and Monte Eremita. Between the promontory of Salsa and Monte Eremita you can admire a large depression on which the stream flows the Salso torrent better known as Pantano.
For this reason, the particular environmental characteristics, that the area is home to a highly diverse flora. Leaving Pantano, you can follow the dirt road passing through fields of vines and vegetables to get to a reforested and equipped area. In the promontory of Salsa a large reforestation reaching up to the dunes and the bushes bordering cultivated land. Through narrow paths between the rocks, crossing a grassy, bushy vegetation, you can access the beach. From here, you can enjoy the view of a clear sea whose waters are rich in flora and fauna that have found their ideal habitat in a jagged rocky plateau over the sea.
The area is characterized by various vegetation belts, each of which has adapted to a specific substrate. For example, in dry areas, they recall arborescent euphorbia, mastic, the Holy Thorn, the sumac, sparse bushes of dwarf palm, rosemary, daphne, the hollyhock, the wild olive, thyme, yellow salvione. In the dunes within the maritime sea rocket or sea cabbage, salsole, marram grass, marine alfalfa. Instead, the Pantano is mainly populated by marsh straws, fishbones, thistle cretico and various species of rushes.
The fauna is proving very rich and diverse: among the mammals are porcupines that finds shelter in cavities at the base of the cliffs. There are nearly 30 species of birds that nest in the area. Among the birds of prey are nesting peregrine falcons, buzzards, kestrels, owls and horned owls. On the beach, there are also numerous seagulls while, during migration, are observed various species of shorebirds along the shoreline, couriers and plovers. In Pantano live pond turtles and green lizards. The diversity of habitats makes the area host many guests of a wide variety of insects, including the Danaus chrysippus, a beautiful butterfly of North African origin.
Among other nesting species remember the sea turtle "Caretta caretta", who have chosen this place to lay their eggs.
The management of the reserve is entrusted to WWF.
Info: for information contact the R.N.O. Torre Salsa - Via Roma, 156 / A - 92010 Siculiana (AG) Tel. 818 220 0922; Fax 0922 817995
Name:
Nature Reserve - Torre Salsa