> Kolymbetra Garden Agrigento
---
Kolymbetra Garden
Valle dei Templi Giardino della Kolymbetra - 92100 Agrigento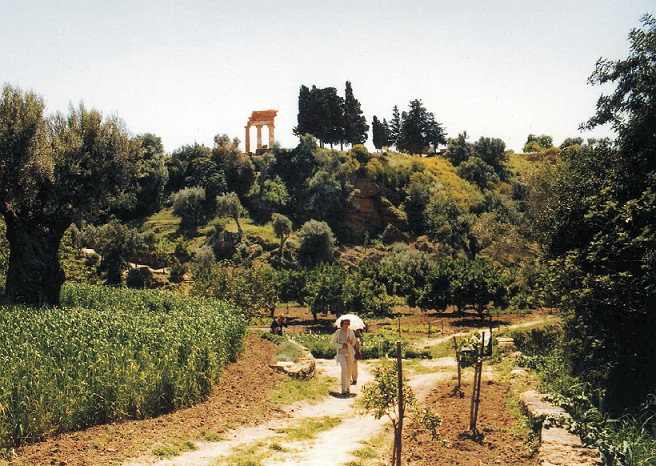 Located in the heart of the Valley of the Temples, Kolymbetra Garden is an authentic open-air archaeological and agricultural museum. It is managed by the FAI (Italian Environment Fund), which in 1999, thanks to a fundamental intervention, was returned to its splendor and fullness. During the year - especially in the summer - it is home to different events: exhibitions, receptions, musical events and food. Walking through the recreated paths one can enjoy views of orange, lemon, almond, and mulberry trees, and many other varieties of fruits. One can smell its perfumes, live the exciting implications that this place transmits and, in the silence of this little paradise, imagine the happy voices of the inhabitants of the ancient and noble Akragas.
Special time conditions:
April-June: lunch break from 10am to 18. July to September: all day from 10 am to 19. October, March: from 10 am to 17 pm Febbraio, novembre, dicembre: orario ridotto 11-15
Special entrance conditions:
FAI Partecipants e Soci National Trust: free entry.
Reduced entrance:
Family Package: € 11.00 Allows entry with reduced rates for households consisting of 2 adults and 2 children (4 -14 years). More than two children, each entry is free.
Closed period:
Seasonal closing January 7 to 31.
Full entrance cost:
Adults: € 4.00 Children (4-14 years): € 2.00 Guided tours by appointment: € 30 per group
By car: for those who want to visit the Valley of the Temples, the Kolymbetra Garden: You can leave your car at the parking site at the Clinica S. Anna. For those who have no car: Bus line n.1- 1 / -2-3-3 / from Piazzale Rosselli Square or the Central Station Contacts: Tel. 335 1229042 - Fax 0922 416787 E-mail: faikolymbetra@fondoambiente.it