> The Turkish Steps Realmonte
---
The Turkish Steps
Scala dei Turchi - 92010 Realmonte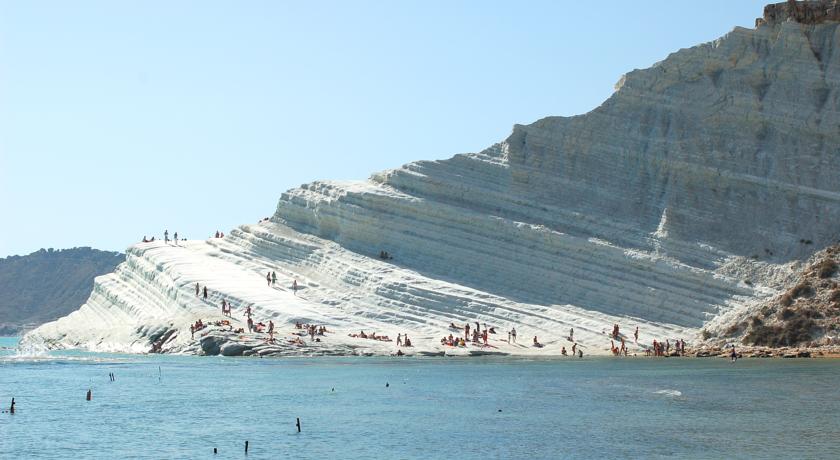 The "Scala dei Turchi" is a splendid, blinding, white jewel that frames the clear blue sea. One cannot describe the view and communicate it all: you have to live immersed with all your five senses in the magic of this incredible cliff of white marl. It's a fascinating place, where centuries of rain and wind have carved a natural staircase and whose white color is made more dazzling by the sunlight.
The Turkish steps is not only a natural feature, but is also a part of local legends: it is said that the Saracen pirates (for the Sicilians, the "Turks", which is a negative connotation that indicates all the people that were once devoted to piracy), docked ships in the calm, clean waters, protected by the "Scala", and climbed these natural "steps" to reach the top of the cliff and raid local villages, including the village of Realmonte.
The luxuriousness of this place is also due to its system of beaches that stretch along its horizon, from Giallonardo to Pergole, Pietre Cadute, Lido Rossello, and Punta Grande, which borders Porto Empedocle.
For those who choose to visit or stay at these places, areas rich in history are easily reachable. For example, the nearby archaeological site of Villa Aurea. Which, in addition to its enviable location, turns it into a place of great beauty one can't miss visiting. Along the coastline, there is also a concentration of good accommodations and restaurants, all forming a unique mix of places, emotions, smells, tastes and colors.
For campers: Service zone
SOSTA CAMPER Punta Piccola Park - SCALA DEI TURCHI – C.da Punta Piccola, S.P. 68 – Cell. 3475298525
An incredible mix of white beaches of fine sand, nature, priceless historical and archaeological resources scattered all over the coast with art, culture, smiles and hospitality of the local people Would you like to find out about all of this heritage with our help? Select and choose the "associated structures". There are routes that will guide you to discover these places. They are full of information (schedules, prices, managers, telephone numbers and so on, and so on.) for museums , churches or palaces and archaeological parks, located on the map.